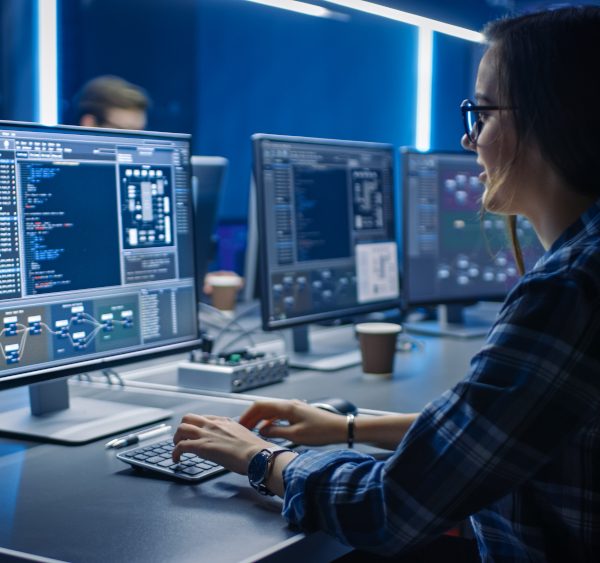 Penetration testing company: Simulate real-world tactics, techniques, and procedures

.
Stay one step ahead of hackers with In.security penetration testing. We take a proactive approach rather than a reactive one, to ensure that your organisation's infrastructure is always prepared and protected.
With in-depth manual testing of your systems, networks and applications, our penetration testing assesses the attack surface of your infrastructure and attempts to exploit identified vulnerabilities using real-world techniques. From there, we can strengthen your security posture for the future.
How It Works: Our tried & tested pen test process

.
Scoping
First of all, we will define your requirements and the engagement window availability to conduct the penetration testing within.
Pre-Engagement
Once the engagement window is confirmed and authorised, our teams will liaise to identify agreed points of contact and the client update schedule.
Engagement Phases
We will perform reconnaissance and identify your vulnerabilities and attack surface. Exploitation of these weaknesses will then allow us to gather information, attempt to escalate privileges and laterally move within your organisation, highlighting any potential for organisational compromise.
Reporting
After the penetration test engagement phases, we will provide detailed reports outlining an executive and technical summary. All vulnerabilities will be rated by severity, include ease of exploitation and impact metrics, and if applicable, will include an attack chain storyboard illustrating multi-stage attack chains. You will always receive recommended remedial actions to fix the issues and reduce risk.
Post-engagement
At In.security, we deliver post-engagement communication to help guide you on the next steps and offer any expert advice you may need for the future.

Types of penetration testing: Penetration Testing services

.

Actionable deliverables Real time updates & tailored reporting

.
Technical assessments exceeding 5 days qualify for 12-months access to our interactive assessment platform where you can access real time preliminary findings for live engagements as well as access to previous engagements for quick comparisons monitoring of your security posture over time.
To evaluate and address the specified risks to your business, In.security compile a detailed report that is tailored to your organisation. As well as metrics and processes explained, we will also provide advice and guidance that will help protect you in the future.
Real time preliminary identification of vulnerabilities
Identify risk before receiving the final report
Vulnerability severity ratings to quickly assess impact
Exploitation with proof of concept attack flows
Likelihood & impact metrics
Remedial action and SIEM threat detection logic (if applicable)
Account credential checks in historic data breaches
Here to help: Pen Testing FAQs

.
Can you assess onsite?
Yes, we can attend your premises for assessments, especially for services such as internal infrastructure/web application testing or wireless assessments. We can also operate remotely too and still yield the same results; all of our services are offered globally.
How quickly can you start?
Depending on your requirements, we can often start engagement within 48 hours.
Do you offer managed service contracts?
Yes, we do. If, over an agreed period of time, you require a significant amount of testing and/or training, either ad-hoc or at regular intervals, we can help. We can set up a pool of pen testing days, training courses, or both, that can be used when you require them. Plus, our managed service contracts attract a discounted rate.
How quickly will I get the report?
After the engagement finishes, we will compile our report and get it back to you within five working days – but will always strive to get it to you sooner.
Can you test out of office hours?
Yes, we can work at your requested times. However, explicit out of hours testing may incur an additional charge.
Do you run denial of service tests? Should I expect service outages?
Due to the inherent nature of penetration testing and red team engagement, we can never fully rule out the possibility of service instability. However, we will make every effort to ensure the risk is minimised. We will never carry out denial of service (DoS) tests.
Latest news & insights Related articles & resources

.
Cyber security services & training: Explore our other cyber security solutions

.