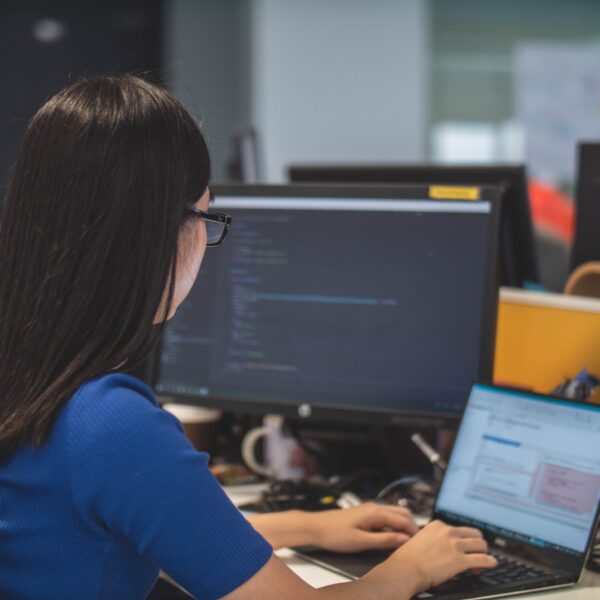 Cyber vulnerability assessments: Identify and understand your cyber security weaknesses

.
Cyber vulnerability assessments and vulnerability scanning services are designed to identify all possible routes of attack. By identifying the attack surface of your external and internal IT estate, we can gain an understanding of security weaknesses in your environment.
At In.security, we use automated vulnerability scanning to isolate and quantify potential vulnerabilities as well as measure their severity and likelihood of exploitation. To ensure your organisation is equipped against attack, our vulnerability assessments are the fastest and most cost-effective way to gain the best understanding and employ comprehensive preparation.
How it works: Our tried & tested process

.
Vulnerability scanning service
Our vulnerability scanning service utilises techniques and technology that identify as many avenues of attack as possible. We understand the importance of identifying vulnerabilities as your organisation's security and structure is important and should not be compromised.
Detailed reporting
After completing our vulnerability scanning, we will compile a detailed report clearly validating and verifying vulnerabilities. We will then organise these in order of criticality so you know which vulnerabilities are a priority to be acted upon.
Further advice & guidance
When detailing the vulnerabilities, we will include a description, identify affected hosts, as well as provide recommended remedial action to help make your organisation secure. Our advice will be tailored to you and your report and will lend on our years of experience.

Benefits of cyber vulnerability assessments: With actionable results

.

Locating benchmarks & common threats
Regular vulnerability scanning provides benchmarks that new threats can be rapidly identified from, as well as locating common signature-based threats, so you can proactively deal with them.
Prioritisation of threats
Rapid attack surface discovery together with remedial prioritisation identifies the surface level risk of each threat and what needs to be dealt with first.
Cost-effectiveness
Our vulnerability scanning service has the benefit of reducing costs and freeing up internal resources by identifying threats and potential threats and benchmarks so you can act quickly to avoid future attacks.
Here to help: Cyber Vulnerability Assessments FAQs

.
Can you assess cyber vulnerabilities onsite?
Yes, we can attend your premises for vulnerability assessments, especially for services such as internal infrastructure/application testing or wireless assessments. We can also operate remotely too and still yield the same results; all of our services are offered globally.
How quickly can you start?
Depending on your requirements, we can often start engagement within 48 hours.
Do you offer managed service contracts?
Yes, we do. If, over an agreed period of time, you require a significant amount of testing and/or training, either ad-hoc or at regular intervals, we can help. What we do is set up a pool of testing days or training courses – or both – that can be used when you require them. Plus, our managed service contracts attract a discounted rate.
How quickly will I get the report?
After the vulnerability assessment finishes, we will compile our report and get it back to you within five working days – but will always strive to get it to you sooner.
Can you test out of office hours?
Yes, we can work at your requested times. However, explicit out of hours testing may incur an additional charge.
Do you run denial of service tests? Should I expect service outages?
Due to the inherent nature of penetration testing and red team engagement, we can never fully rule out the possibility of service instability. However, we will make every effort to ensure the risk is minimised. We will never carry out denial of service (DoS) tests.
Latest news & insights Related articles & resources

.
Cyber security services & training: Explore our other cyber security solutions

.